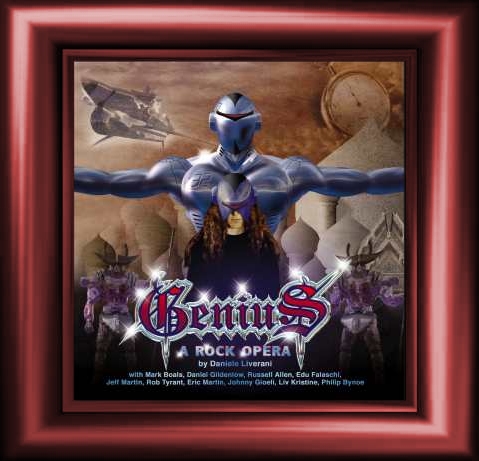 Genius Rock Opera
Episode 2: In search of the little prince
1-He will die (Russel Allen-Daniel Gildenlow-Mark Boals) 9.25
2-Playing in their dreams (Edu Falaschi-Mark Boals-Daniel Gildenlow) 6.56
3-You won't escape (Russel Allen) 5.17
4-Valley (Jeff Martin) 5.51
5-Beware (Roberto Tiranti) 5.51
6-My dear son (Eric Martin) 8.22
7-What he has to say (Roberto Tiranti-Johnny Gioeli-Mark Boals) 7.02
8-All my fault (Roberto Tiranti-Johnny Gioeli-Mark Boals-Daniel Gildenlow) 10.39
9-To be free (Liv Kristine) 4.48
10-Fight again (Mark Boals) 5.36
11-Far away from here (Daniel Gildenlow-Johnny Gioeli-Roberto Tiranti-Mark Boals) 9.58
Musicians:
Daniele Liverani: All Guitars, Bass and Keyboards
Dario Ciccioni: Drums & Percussions
Oliver Hartmann: 'All choirs'
Cast of characters:
Mark Boals: 'Genius'
Daniel Gildenlow: 'Twinspirit n.32'
Russel Allen: 'Dream League commander'
Edu Falaschi: 'Jason'
Jeff Martin: 'Seventree'
Roberto Tiranti: 'Oddyfer guardian'
Eric Martin: 'Mr. Niko'
Johnny Gioeli: 'Oddyfer'
Liv Kristine: 'Klepsydra'
Philip Bynoe: 'Storyteller'
Additional backing vocals on 'Playing in their dreams' by
Daniel Gildenlow


All songs written and composed by

Daniele Liverani
Original story concept written by

Daniele Liverani
Additional english adjustements by

Zeeshan Lakhani, Enrico Cantoni, Maria Chiara Basaglia, Layla Cadavona,

Mario De Riso, Irene Griffin, Scott Miller



Directed, produced and edited for Frontiers Records by

Daniele Liverani
Music recorded at Fear Studios, Alfonsine, Italy, engineered by

Gabriele Ravaglia and Daniele Liverani


Mark Boals vocals recorded at

Mark Boals studios, Los Angeles, engineered by Mark Boals

Daniel Gildenlow vocals recorded at

Five Legged Monkey studios, Eskilstuna, Sweden

Russel Allen vocals recorded at

Gear Studio, Red Bank, New Jersey, USA
Edu Falaschi vocals recorded at

LCM Records studio, Brazil, engineerd by Adriano Daga & Alexandre Dantas
Jeff Martin vocals recorded at

Bigwater studio, Lake Tahoe, California USA, engineerd by Damon Gold
Eric Martin vocals recoded at

Pepperland studios, San Rafael, California USA, engineered by Denise Martin
Roberto Tiranti vocals recorded at

RT Music Studio, Genova
Johnny Gioeli vocals recorded at

The Box studio, Los Angeles, California USA

Liv Kristine Gioeli vocals recorded at

Mastersound studio, Germany, engineered by Alexander Krull.

Philip Bynoe voice recorded at

Mark Boals Studios, Los Angeles, engineered by Mark Boals

Oliver Hartmann vocals recorded at

Alive-Studios, Aschaffenburg Germany engineered by Oliver Hartmann


Mixed by

Paso at Fear Studio, Alfonsine, Italy

Mastered by

Gabriele Ravaglia at Fear Studio, Alfonsine, Italy


Cover and artwork by

Giulio Cataldo


Story and music extracts:
HE WILL DIE

(Russel Allen-Daniel Gildenlow-Mark Boals)

Audio Clip

(low quality)

Time was running out. The Dream League Force troops, led by their
powerful commander, have already entered the twinspirit land and, in a few minutes, may be able to locate and terminate Twinspirit32.

If this occurs, then Genius' dreaming would cease immediately and he would not remember any of it. If that occurs, then King Mc Chaos' innocence would not be proven and his little son would not be saved.
The European dreams kingdom is about to loose their beloved royal family forever!
Without delay, Genius and Twinspirit32 have to find a way to escape from that place to avoid being captured... But how?

The two teleported themselves away from the European twinspirit land; they made it just in time to avoid being caught by the Dream League Force.
There were many weird Japanese objects that randomly disappeared, even though a twinspirit requested and teleported them away in order to create dreams.
While the two were walking around, nearly lost in the endless area, their ears started to pick up a nice guitar melody coming from somewhere.
That music was not unknown to Genius...


PLAYING IN THEIR DREAMS

(Edu Falaschi-Mark Boals-Daniel Gildenlow)

Audio Clip

(low quality)
YOU WON'T ESCAPE

(Russel Allen)

Audio Clip

(low quality)

Jason led them to a place where the ships were leaving for the Asian kingdom. After a sincere thanking, they slipped into two cases filled with strange looking objects and proceeded very carefully, hoping not to be noticed.
Five minutes later, they were carried into an enormous ship and eventually left for the Asian kingdom. The prince was waiting to be destroyed as a toy fantasy in one of the Asian stores due to the sentence of Maindream for his father's crime.
There was no time to waste, Christmas was getting nearer and during that time many children dream about dolls!
Meanwhile, the Dream League commander was still searching for Twinspirit n.32 and he couldn't explain why he was not at his console in the European twinspirit land!
He was extremely upset and asked his troops to be wiser and search farther.

There was a long distance to cover, but with a ship as fast as the speed of light, they reached their destination. They hid in the cases until they were discharged into what was probably a temporary storage. When the chance came upon them, they quickly escaped out of the cases. Then, they started running casually in order not to be discovered.
After running into obscurity for quite some time, the two friends arrived at another place. Here, there were no twinspirit or humans, of course. This valley was immense and full of trees sculpted in the shape of odd numbers! This was the Odd's Valley. Suddenly, one of those strange odd trees began to talk to them in a comical tone. He seemed to be worried about their presence in that valley...


VALLEY

(Jeff Martin)

Audio Clip

(low quality)
BEWARE

(Robero Tiranti)

Audio Clip

(low quality)

Genius and Twinspirit marched on! They didn't hear the warnings of the chattering tree. They were determined to find the prince!
After marching endlessly, they saw an image of an oriental royal palace on the horizon. Genius decided to go on alone, hoping to discover the purpose of the colossal palace. He told his Twinspirit to hide and wait. It was too dangerous!
In fact, someone had already noticed that he was approaching the palace and was preparing to give Genius a warm welcome...

While Genius was approaching the mysterious palace, Mr. Niko, the father of King Mc Chaos, was trying to discover the reasons behind the arrest of his son and the beloved little prince. Being a person of excellence and royalty and especially being sure of his son's loyalty, Mr. Niko tried to be positive and hopeful about his family members' fate, but it was getting more difficult with the absence of news.

MY DEAR SON

(Eric Martin)

Audio Clip

(low quality)
WHAT HE HAS TO SAY

(Roberto Tiranti-Johnny Gioeli-Mark Boals)

Audio Clip

(low quality)

After many requests from Genius, King Oddyfer accepted to receive him.
When Genius entered the King's room, he was impressed by the view!
The King and his wife, Klepsydra, were sitting on two golden thrones. Each throne was shaped like the number nine. The King was obsessed with odd numbers. A large group of old consultants sat around the King and his wife. They were nervous and very reluctant about giving Genius a chance to speak, but the King was too curious to hear what Genius had to say...

Genius was not to be trusted and was taken back to his cell. King Oddyfer was joyful. Dream League Force had been trying to capture the human and his twinspirit for some time, always without success, till now. He arrested the human, knowing that this could lead to prestige and fame.
King Oddyfer was certain that the human's Twinspirit was not too far behind and ordered his guardians to find him as soon as possible.
While Genius was desperately lost in his bleak cell, thinking about all his faults, Oddyfer was discussing the possibility of how this event could possibly change his entire life…


ALL MY FAULT

(Roberto Tiranti-Johnny Gioeli-Mark Boals-Daniel Gildenlow)

Audio Clip

(low quality)
TO BE FREE

(Liv Kristine)

Audio Clip

(low quality)

Genius' eyes filled up with tears, he was desperate!
In spite of his sincere declarations, King Oddyfer did not believe him at all. All Genius's attempts had been useless and he now began to think that this was the tragic end of his adventure into that forbidden world. When hope seemed to be fading away into the hills of nothingness, a shadow appeared at the entrance of his cell. It seemed to be in the shape of a beautiful woman...

After a while, Genius eyes became clear and while he was listening to her warm soft voice, the hope of a solution came shining back into his heart, mending the wounds. Genius was led by Klepsydra to a secret backdoor, through which he left the Palace. He returned to where he left Twinspirit 32, eager to find him still there... and there he was! Now, they were together once again, with more chances than ever for them to fight for King Mc Chaos innocence!

FIGHT AGAIN

(Mark Boals)

Audio Clip

(low quality)
FAR AWAY FROM HERE

(Daniel Gildenlöw-Johnny Gioeli-Roberto Tiranti-Mark Boals)

Audio Clip

(low quality)

Twinspirit 32 began to feel depressed. Twinspirits understand that when a dream comes to an end, then they are going to die soon.
While he was with Genius, in search of the old oak indicated by Klepsydra, his mind drifted off. He contemplated about different scenarios, what could have been and how many problems could have been avoided if his human friend would have remained in the real world...

The two friends finally found the old oak. It was only a three dimensional image that concealed the secret entrance to the Asian Stores. They passed through the old oak image and crossed the threshold into a wide underground space filled with infinite warehouses. They knew that the european prince was being kept in an Asian toy's warehouse but... which of all these stores was the right one? Time wasted away; there was little of it left and they had to find the prince as soon as possible! Will Genius and Twinspirit 32 fail to find the toy's warehouse where the prince will be used as a fantasy for a dream creation and then destroyed? Or, will they find him beforehand, just in the nick of time?

To be continued...

STORYTELLER SAMPLE

(Philip Bynoe)

Audio Clip

(low quality)