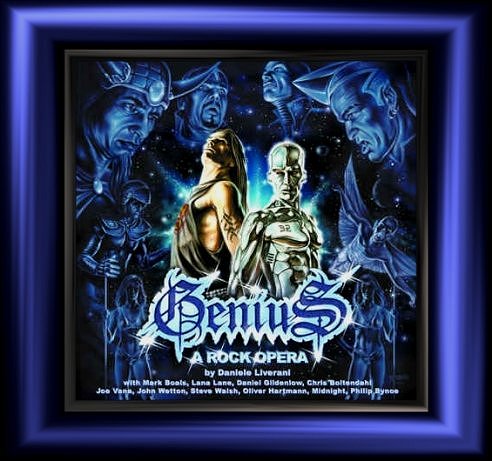 Genius Rock Opera
Episode 1: A human into dreams' world
1-Without me today (Mark Boals) 12.04
2-The right place (Mark Boals-Lana Lane) 4.54
3-Paradox (Mark Boals-Daniel Gildenlow) 9.27
4-The glory of our land (Chris Boltendahl) 7.52
5-All of your acts (Joe Vana) 6.31
6-Dreams (Mark Boals) 5.29
7-My pride (Steve Walsh-John Wetton) 7.31
8-There's a human (Oliver Hartmann) 5.10
9-Father (John Wetton) 5.25
10-Terminate (Midnight) 5.40
11-I'm afraid (Mark Boals-Daniel Gildenlow-Midnight-John Wetton) 8.56
Musicians:
Daniele Liverani: All Guitars, Bass and Keyboards
Dario Ciccioni: Drums & Percussions
Cast of characters:
Mark Boals: 'Genius'
Lana Lane: 'Doorkeeper'
Daniel Gildenlow: 'Twinspirit n.32'
Chris Boltendahl: 'Stationmaster'
Joe Vana: 'King Mc Chaos Consultant'
John Wetton: 'King Mc Chaos'
Steve Walsh: 'King Wild Tribe'
Oliver Hartmann: 'King Wild Tribe Consultant'
Midnight: 'Maindream'
Philip Bynoe: 'Storyteller'
Olaf Senkbeil,Hachy Hackmann,Chris Boltendahl:' Choirs'
Additional backing vocals on 'The Right Place' by
Rita Celli

Additional backing vocals on 'All Of Your Acts' by
Thom Griffin

All songs written and composed by
Daniele Liverani
Original story concept written by
Daniele Liverani
Additional english adjustements by
Enrico Cantoni & Maria Chiara Basaglia & Layla Cadavona

Directed, produced and edited for Frontiers Records by
Daniele Liverani
Music recorded at Fear Studios, Alfonsine, Italy, engineered by
Gabriele Ravaglia and Daniele Liverani

Mark Boals vocals recorded at
Mark Boals studios, Los Angeles, engineered by Mark Boals
Lana Lane vocals recorded at
the Walden West Recorder, Woodland Hills, California, engineered by Erik Nolander
Daniel Gildenlow vocals recorded at
Ambassaden Studio in Eskilstuna, Sweden
Chris Boltendahl vocals, Olaf Senkbeil and Hachy Hackmann choirs recorded at
Principal Studios, Senden, Münster, Germany
Joe Vana vocals recoded at
The Retro Room, Oak Park, Illinois engineered by Jon Smith and Thom Griffin
John Wetton vocals recorded at
Nomansland Studios, New Forest, England, engineered by Rob Aubrey
Steve Walsh vocals recorded at
In House studios, Atlanta, engineered by David Manion
Oliver Hartmann vocals recorded at
Oliver Hartmann Studios, Mosbach, Germany, engineered by Oliver Hartmann
Midnight vocals recorded at
Sarasota Studios, Florida
Philip Bynoe voice recorded at
Mark Boals Studios, Los Angeles, engineered by Mark Boals

Mixed by
Gabriele Ravaglia & Paso at Fear Studio, Alfonsine, Italy

Cover and artwork by
Markus Meyer
Story and music extracts:
WITHOUT ME TODAY

(Mark Boals)

Audio Clip

(low quality)

Since the beginning of their existence humans have never wondered how nor why dreams have been taking place in their minds.
In addition, they have neither wondered about what was really behind the experience of dreaming, until that strange Monday early morning.
Genius was a clever boy, who used to get up quickly after the first ring, however that morning he remained embraced to his pillow, listening to the clock's sound with suspicion…
It was 7.00 and the alarm clock rang loudly as it does every day.
That was the same deep sound that always breaks the silence of the morning.
The reason for the suspicion was later found in the strange, irregular beat that the clock was ringing.
Genius was a smart drummer, and focusing better, discovered that there was a recurrent pattern on that clock beat, and started to imagine a snare drum fill that followed that rhythm.
He was completely amazed by that bell ring pattern and a strange and beautiful feeling started to raise and invade him: it was like a strong attraction, forcing him to stay in bed.
Suddenly, with a quick move, he turned in his bed and started to sleep again…
After a while he began to dream and a wide open space appeared before his eyes. Standing just in front of him was a great golden gate suspended in air.
The entrance to the gate was surrounded by a majestic sound of choirs and bells.
All of a sudden, the gate was opened and Genius was captured by an incredible vortex that led him to the huge entrance.
At the end of that stormy moment, Genius saw through the haze two strange masses slowly taking shape before his eyes.
The figures seemed to be two beautiful women with sweet smiles upon their faces. With a delicate whisper, the women welcomed him.

THE RIGHT PLACE

(Mark Boals-Lana Lane)

Audio Clip

(low quality)
PARADOX

(Mark Boals-Daniel Gildenlöw)

Audio Clip

(low quality)

Genius was starting to become frightened by the situation, because he wasn't understanding anything about it.
He couldn't yet realize that what was happening to him was the result of his dreaming!
After this first meeting, a new scenery appeared in front of him. There was an infinite queue of people slowly proceeding onwards, step by step toward an indefinite point on the horizon.
Genius joined the queue, and still in disbelief asked for an explanation from the person in front of him.
The two brand new friends found themselves in a very long and funny coloured train where the twin spirits grouped in pairs, were sitting.
The train started unexpectedly its race and immediately reached an incredible speed!
Infact, after some minutes, the train eventually reached its final destination. The Twin Spirit land.
The Stationmaster was an old man that since the birth of time has always greeted the new twin spirits at their arrival to the land.

THE GLORY OF OUR LAND

(Chris Boltendahl)

Audio Clip

(low quality)
ALL OF YOUR ACTS

(Joe Vana)

Audio Clip

(low quality)

Well, this place was definitely amazing! The ground was like a big maze suspended in the air.
Scattered along its tight corridors there were many numbered control stations where every twin spirit was slowly taking his place.
Each control station featured a comfortable armchair and a wide screen through which the Twin spirit could control the fantasies of his owner.Further more, there was a big control panel installed behind the screens.
On the panel there were the archives of every possible fantasy, which were ready to be used for the creation of a dream.
Genius and his Twin spirit found the others, who had previously arrived and were already at work.
Meanwhile many dreams was still continuing on the screens, a tall and imposing shape appeared, making all the twin spirits run quickly in order to take their places.
This imperious person was on time for the usually speech he performed in front of the dream makers at the start of every shift.
Genius, sitting in his armchair, was looking at his travel mate who was starting to work He was a real Twin spirit! That was the difference between them.
Genius in fact was staring at those controls with the utmost ignorance about how to deal with them…

DREAMS

(Mark Boals)

Audio Clip

(low quality)
MY PRIDE

(Steve Walsh - John Wetton)

Audio Clip

(low quality)

Meanwhile, a tribal beat was pounding from the kingdom's shores.
Then, a great procession of people dressed in vivid colours came to the twin spirits' sight.
The ground was trembling to the joyful march of King Wild Tribe and his subjects.
King Mc Chaos was really glad to see his old friend again.
When King Wild Tribe, followed by his collaborators, entered the area, he was amazed by the majesty of Mc Chaos' place, but his collaborators did not miss to notice Twin spirit nr.33.
He was sweating! Sitting in front of a blank black screen.
And, this was really suspicious, next to him was Twin spirit nr.32.
He was displaying the exact view of his eyes! There was a human in that land...

THERE'S A HUMAN

(Oliver Hartmann)

Audio Clip

(low quality)
FATHER

(John Wetton)

Audio Clip

(low quality)

Wild Tribe's caravan started its walk back to the African kingdom, as progressively disappeared into the horizon.
King Mc Chaos got back to his palace too, unaware of what soon would have happened to him.
That night the european King watched over his little son.
Though it was as if he was feeling anxious for some unexplanable reason, but only perceived through the sensitiveness of a father...
Shortly after Wild Tribe's denunciation Mr. MainDream, the president of the Dream League Council, summoned all the Kings of the world. He summoned them in order to decide what kind of punishment should be applied in that case. After a brief discussion, that decision was taken...

TERMINATE

(Midnight)

Audio Clip

(low quality)
I'M AFRAID

(Mark Boals-Daniel Gildenlöw-Midnight-John Wetton)

Audio Clip

(low quality)

A few hours after the sentence, in the still of the night, Maindream in person and some of the Dream League force soldiers silently reached Mc Chaos' Palace.
The King was arrested, and his baby was sent to the Toy's warehouse in the Asian Dream's kingdom.
This was a terrible thing, because Mc Chaos knew that his son would have been destroyed...
A cold tremor shook across the Twin spirit land, the news of King Mc Chaos' arrest spread quickly among the twin spirits, and their hearts filled with fear.
They all loved so much their King.
In the meantime, the Dream League's Force entered the Twin spirit land and started to search for Twin Spirit nr.32.
Will the two friends solve all these troubles?

To be continued...

STORYTELLER SAMPLE

(Philip Bynoe)

Audio Clip

(low quality)